NN Investment Partners: Green bonds stand to reap the rewards of sustainability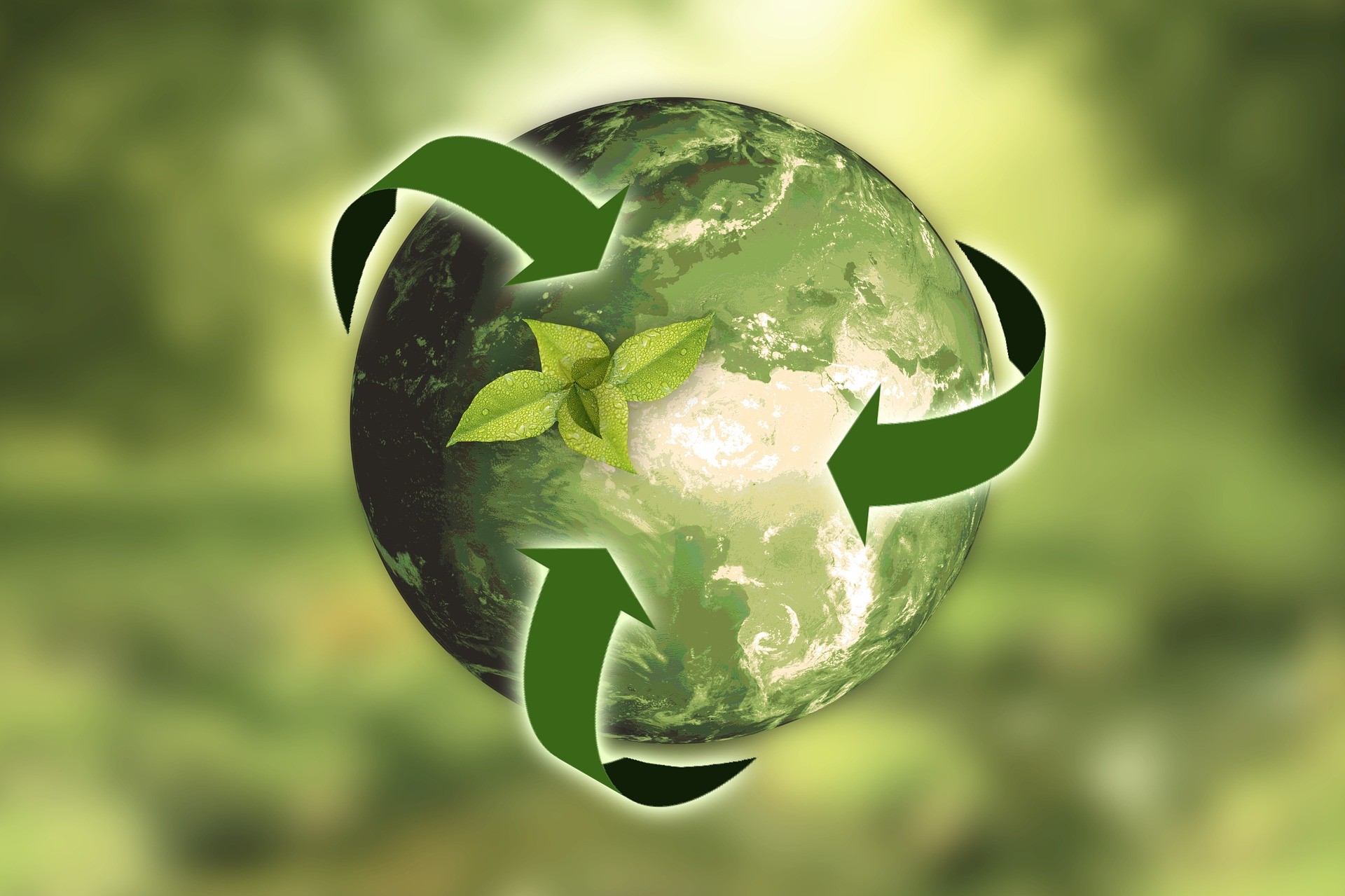 Today's green bond investors are spoilt for choice
Even traditional investors can benefit from adding green bonds to their portfolios
With the rise of greenwashing, not all green bonds are created equal
Green bonds have gone from strength to strength over the past decade. Today, fixed income investors seeking to greenify their portfolios have an ever-widening range of options as new countries and corporates enter the green bond space. But does investing for impact hurt returns? On the contrary, our research and the success of our green bond strategy show that having a positive impact and generating returns often go hand in hand. Investors can further strengthen their portfolios by opting for actively managed bonds that are truly green – bonds that make a measurable positive contribution to today's sustainability concerns.
As the climate crisis dominates the headlines, more and more companies are making bold commitments to carbon neutrality, even in traditionally carbon-intensive sectors. BP recently announced its intention to go carbon-neutral by 2050, following Repsol's similar commitment in December. And Microsoft went even further: as well as committing to go carbon-neutral by 2030, the company pledged in January to remove all its historical carbon emissions from the environment by 2050.[1]
In my view, these commitments demonstrate that the market is irreversibly moving towards sustainability. Green bonds offer fixed income investors a way to participate in this trend. These bonds differ from traditional bonds in that the proceeds partially or fully finance projects with a tangible positive environmental impact, such as building solar farms or reforestation.
As part of our ambition to be a leader in responsible investing, we have also taken a leading role in the maturing of the green bond market. Since we began investing in green bonds in 2014, we've pushed for increasing transparency and have engaged actively with issuers on their intentions. We do this not only because we want to create a better world through our investments, but also because we believe that truly green investing is the best way to improve risk-adjusted returns.
Green bonds: no longer a niche option
Awareness of green bonds has grown in parallel with the urgency of the climate crisis. However, they have traditionally been viewed as a "niche" investment option for investors who prioritise sustainability. A growing wealth of evidence suggests that green bonds are also a viable replacement for traditional corporate and government bonds.
Today's green bond investors are spoilt for choice. With companies like PepsiCo and Toyota having entered the market, investors are no longer limited to green bonds issued by European countries. Green bonds should also enjoy strong growth opportunities over the coming years, so investors looking to enter the space will have no shortage of issues to choose from.
With strong political support for decarbonising economies, companies will face pressure to implement more sustainable business solutions, which could be financed through green bond issuance. The growth of electric vehicles, for example, should provide various opportunities for car manufacturers to issue green bonds. Several governments are also implementing measures to stimulate issuance, while ongoing EU-wide developments in improving guidelines and taxonomies should underpin the attractiveness of green bonds.
What's more, investing in green bonds poses no additional costs to fixed income investors. We researched corporate green bond performance since 2016 and found that green bonds have outperformed regular bonds on returns in three of the past four years (2016, 2018 and 2019; see figures below). The volatility of corporate green bonds relative to regular bonds has also shrunk each year, which means the barriers to replacing traditional bonds with green bonds are dissipating. Even investors who are sceptical about sustainability initiatives should recognise that from a financial standpoint, the balance is shifting in favour of corporate green bonds.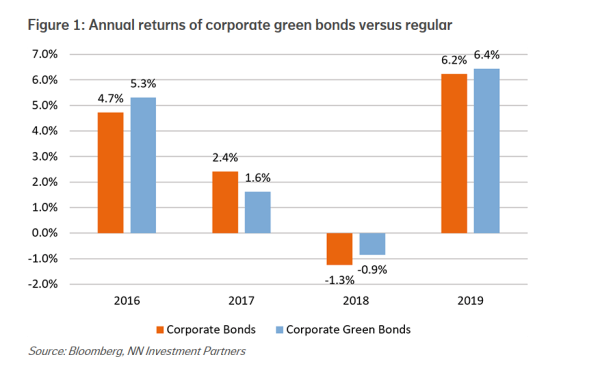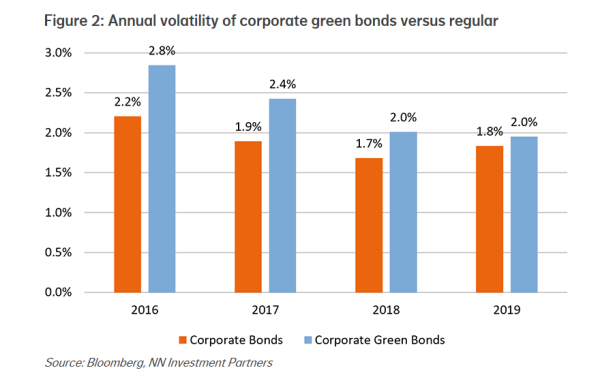 Our own performance also backs this up. We investigated the performance of the NN (L) Green Bond fund[2] since its launch in 2016 and found that it has outperformed the Bloomberg Euro Aggregate Index in three of the four years since inception (see figure below).[3]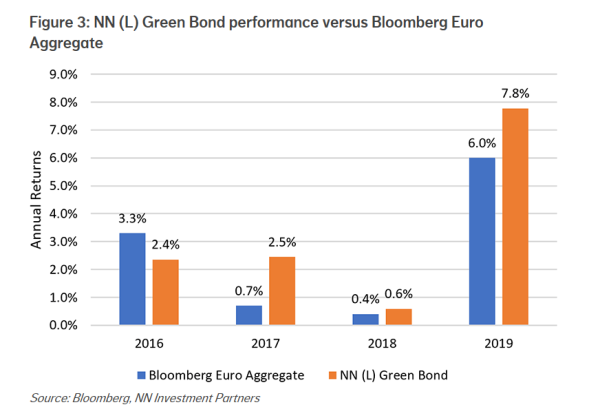 How can investors differentiate between the green bonds on offer?
Not all green bonds are created equal. In recent years a growing wave of greenwashed bonds has entered the market: so-called green bonds that don't contribute to transitioning business models, leading to a minimal positive impact. Actively managed "dark green" bonds – bonds with a measurable and substantial positive impact – have a stronger sustainability profile but are also better positioned, in my view, from a financial standpoint.
For a bond to be truly green, the issuer must be sustainable in its core business. In our Green Bond strategy, we don't currently invest in any green bonds issued by airports, as airports indirectly support one of the most carbon-intensive sectors. For us to invest, an airport would need to be actively investing in making air transport cleaner (via electrical/hybrid planes for short-haul flights or biofuels for long-haul flights, for example). Assessing the issuer's core business also helps us identify innovative, forward-thinking companies. These companies will be less likely to be left with stranded assets and less likely to default on obligations.
Within our green bond strategy, we also engage regularly with issuers. We reach out to issuers wherever possible, including prospective green bond issuers, as this gives us a better understanding of their sustainability intentions. In this way, we can identify companies that are taking genuine steps towards sustainability and will be better positioned in the long run, leading to stronger returns.
Finally, genuinely green bonds typically provide better transparency through clear impact reporting, such as demonstrating how the proceeds contribute to climate mitigation targets or the UN Sustainable Development Goals (SDGs). These bonds will be more likely to conform with forthcoming EU-wide regulations on green bonds. Their access to funding could also improve, as the SDGs and climate efforts should attract significant additional funding in the next decade. For our NN (L) Green Bond fund, we provide a detailed breakdown of SDG exposure and carbon emissions saved (currently 657,689 tonnes of CO2 annually).
Green bonds are no longer a niche investment choice. It's becoming undeniable that all investors can benefit from including them in their fixed income portfolios. Still, the quality of green bonds on offer varies widely, and I advise investors to be selective in choosing the option that best fits their portfolio. For investors seeking the gold standard, actively managed offerings that invest only in truly green companies and projects are strongly positioned to outperform in both impact and returns.
[1] For illustration purposes only. Company name, explanation and arguments are given as an example and do not represent any recommendation to buy, hold or sell the stock. [2] NN (L) Green Bond is a sub-fund of NN (L), established in Luxembourg. NN (L) is duly authorised by the Commission de Surveillance du Secteur Financier (CSSF) in Luxembourg. Both the fund and sub-fund are registered with the CSSF. The prospectus and the Key Investor Information Document (KIID) (if applicable) and other legally required documents relating to the fund are available on www.nnip.com. [3] Fund performance is gross (before fees)