Capital Group: Productivity is the key to solving Japan's 'age-old' issue
Capital Group: Productivity is the key to solving Japan's 'age-old' issue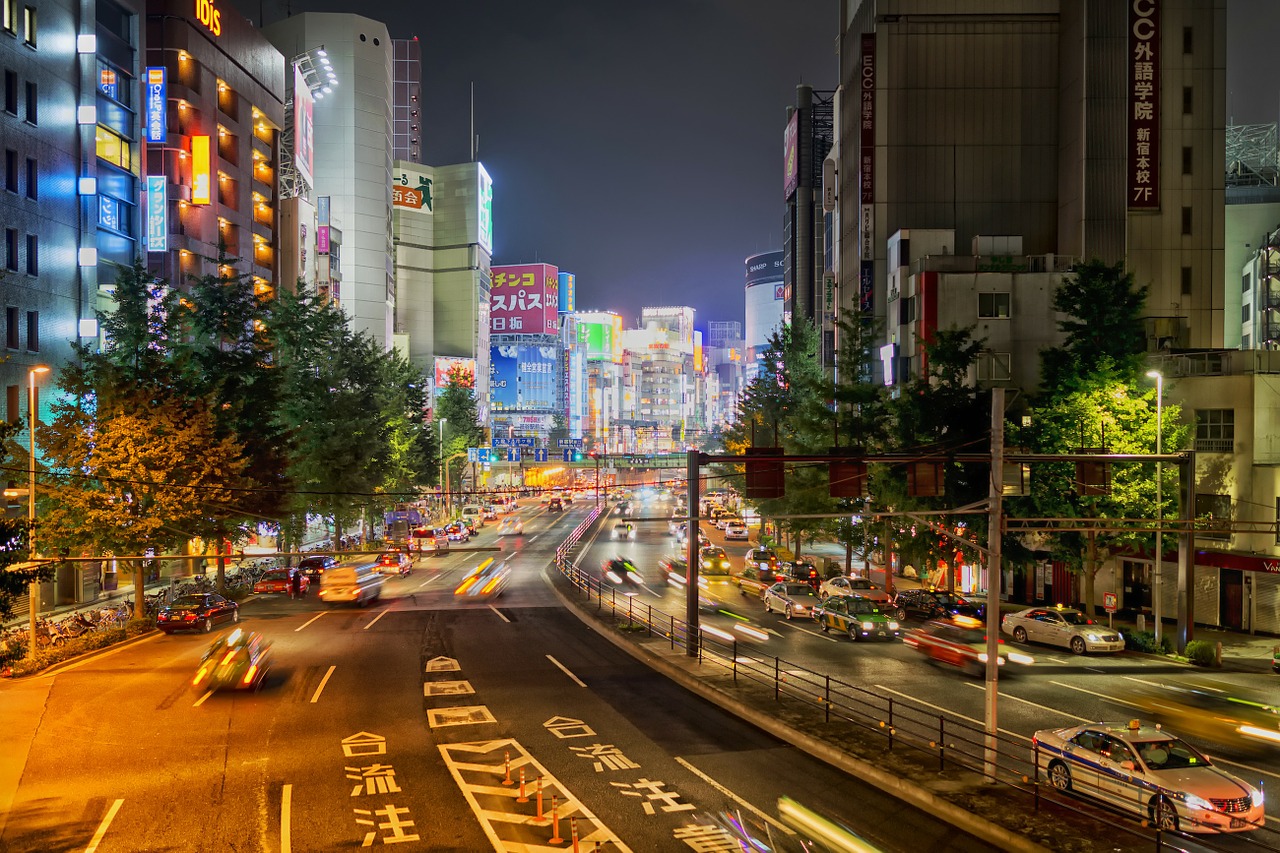 Following years of under-investment, Japanese corporates are finally recognising the benefits of directing their hard-earned cash towards human and physical capital. Prompted by improving corporate governance, the expected boost to productivity is set to be a game changer for an ageing Japan and its muted equity market.
An 'age-old' issue
Here is a question: do you know which country is home to the world's oldest population? The title belongs to Japan, with the number of elderly people aged 65 or above accounting for 26.6% of the population. The world's most elderly nation, however, is about to get even older.
Official estimates believe 33.3% of Japan's population will be over 65 by 2036 and that figure could go up to 38.4% in 2065.2 Japan's overall population is shrinking. Its total population currently stands at around 126.2 million, but it is predicted to fall to 99.2 million in 2053, before dropping to 88.1 million in 2065.
The impact of an ageing workforce, further amplified by a declining population, can be keenly felt across the social and economic fabric of Japan. Government spending on pensions and health care have gone up and are coinciding with the authorities' own efforts to boost the domestic economy mostly through infrastructure investments. Consequently, the government is running up an enormous amount of debt and has been aggressively relying on the Bank of Japan to absorb the supply of such debts.
The impact of Japan's ageing population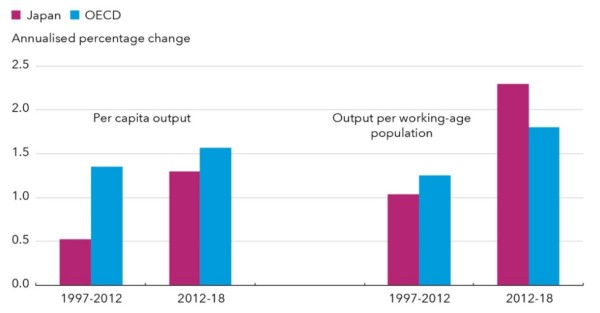 Source: OECD Economic Surveys: Japan 2019, data as at 15 April 2019. OECD: the Organisation for Economic Co-operation and Development
The chart above puts into perspective just how much of an impact an ageing population has been having on the Japanese economy. While the bars on the left-hand side show that Japan is closing the gap on its peers from the Organisation for Economic Co-operation and Development (OECD) in terms of per capita output growth, the narrative drastically changes once only the working-age population is taken into consideration.
In fact, the per capital output growth of the Japanese working population from 2012 to 2018 even exceeded the OECD's average, which goes to show how much of a drag the non-working-age population has had (and will continue to have) on the East Asian country.
Productivity lag
With the size of the population heading towards an inevitable downward trend, it has become increasingly important for the Japanese authorities to come up with solutions to prevent its economy from sliding into decline.
There has been a noticeable shift in the country's overall policy tone in recent years, which has seen the 'three arrows' of Abenomics – monetary easing, fiscal stimulus and structural reforms – evolve into a broader pro-growth blueprint to tackle socio-economic problems.
This shift has also seen an increased emphasis on boosting the country's productivity – one of the most important factors alongside population growth when it comes to maintaining the health of the economy. Indeed, the Minister of State for Economic and Fiscal Policy Toshimitsu Motegi reinforced in his fiscal policy address at the start of 2019 that the labour shortage in Japan should be viewed as an opportunity to improve labour productivity.
But where does Japan's labour productivity currently stand? Several data points reveal that Japan continues to lag some major economies in terms of overall productivity. Statistics from the OECD show that Japan's real GDP per capita growth, which measures the economy's productivity, averaged 2.9% per annum over the past 20 years. This is lower than the 3.3% growth recorded in the US and the 3.6% achieved by Germany over the same period. So not only is Japan's population ageing and declining, but whoever is left to work also appears to be less productive than their American or German peers.
Japan's labour productivity is lagging its OECD peers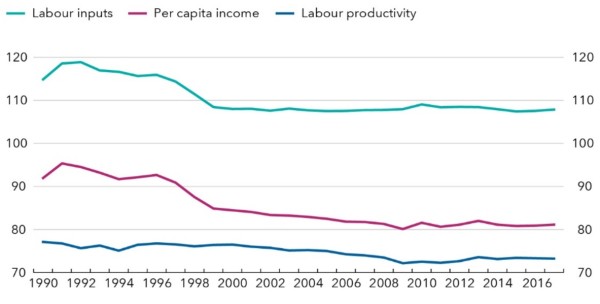 Note: In this chart, the average of the top half of OECD has been fixed at 100. Source: OECD
Economic Surveys: Japan 2019, data as at 15 April 2019
Looking at the same issue from another perspective, the chart above pits Japan against the upper half of the OECD – countries that generally have higher income levels. From the chart, Japan has a much higher level of labour input, which tallies with the country's famed culture of long working hours. Yet it loses out to its higher-income peers in both per capita income and labour productivity.
Still, it does not mean the entire Japanese population has fallen behind in terms of productivity. Within the country, there is a clear segregation between two ofthe largest groups of its economy - manufacturing and non-manufacturing businesses.
Since the turn of the millennium, manufacturing workers in Japan have increased their value-added per hour worked from ¥4,000 to approximately ¥5,800, a surge of 45%. The value-added per hour for non-manufacturing workers, on the other hand, remained flat at ¥4,600 over the same period. In other words, manufacturing workers in Japan have become more productive over the years, whereas their non-manufacturing peers have not.
The silver lining
So why is there such a huge gap between the productivity growth of the manufacturing and non-manufacturing industries? Part of this can be explained by different levels of investment, with capital expenditure growth in the services sector (a large component of the non-manufacturing segment in Japan) remaining largely stagnant over the past several years.
In fact, the productive capital employed per non-manufacturing worker fell from ¥24 million to ¥20 million from 1997 to 2017. In contrast, Japanese manufacturers recorded a steady increase in their capital investment spending, which rose from ¥20 million to ¥26 million over the same time. The drop in services sector's productivity is partly the result of underinvestment and is a core factor behind Japan's economic stagnation and underperformance over the past two decades.
These numbers suggest that for a country such as Japan, which is experiencing an ageing and shrinking population, the key to improving productivity is to increase spending and investment, especially towards critical infrastructure. In addition, spending on human capital is also important albeit not in terms of hiring more workers, but enhancing the workforce's ability to deal with the latest technologies. A smaller population means it needs to become smarter to offset changes in the labour force.
But such changes cannot occur in isolation. New corporate governance standards, namely the Corporate Governance Code of 2015, which underwent further changes in 2018, and a revised Stewardship Code of Conduct for Institutional Investors in 2017 could be the game changer Japan needs.
The former aims to promote transparent, timely and decisive decision-making by Japanese corporates, while the latter is key to encourage more constructive dialogue between institutional investors and companies. Ever since the creation of the Corporate Governance Code, the percentage of listed companies with two or more independent outside directors rose from 17% to 91%, while more than 230 institutional investors have accepted the stewardship code.
The emergence of these codes should invoke stronger corporate governance, which would then lead to better capital decisions over time. While a complete shift in mindset is likely to be a gradual process, we are nonetheless already seeing improvements.
Corporate governance and shareholder returns have been improving while capital spending by Japanese companies went up by 6.1% year-on-year in the first quarter of 2019 – its 10th consecutive quarterly gain. Most importantly, the robust momentum is driven mostly by demand to refurbish old equipment and boost investment in automation as well as other labour-saving technologies.
Many Japanese businesses, especially those in the services sector, are now making a bigger push to introduce cutting-edge information and communications technology (ICT), robotics and cloud tools. Several retailers, for example, have finally begun establishing multi-channel strategies, with additional resources going into combining their e-commerce platforms with their brick and mortar stores to create a holistic shopping experience prevalent in other developed economies.
The healthcare sector is also getting into the act by investing in big data to unlock opportunities in providing customised medical care, check-up and treatment. While the growing maturity of autonomous driving technologies and Mobility-as-a-Service could be game changers for the country's transportation services sector.
A brighter outlook
The combination of an ageing population and stronger corporate governance is likely going to encourage more Japanese corporates to invest in innovation. A smaller workforce will also motivate business efficiencies and increase their demand for higher-skilled workers to maximise the potential of technological advances.
Japanese conglomerate Hitachi, for example, has been undergoing a series of structural reforms in recent years to improve profitability. Hitachi has been downsizing or withdrawing low-profit businesses, while pursuing a growth strategy using digital technologies. Such efforts have brought about the emergence of Hitachi Lumada – an advanced platform that leverages on the spread of Internet of Things (IoT) and data analytics to create tailored solutions, services or technologies for clients. The company recently announced it will be spending ¥1.2 trillion over the three years to fiscal 2021 on research and development, while ¥1 trillion will be invested in the IT sector, mainly for projects related to Lumada.
As more Japanese corporates start to embrace this shift, it could eventually prompt the country's prolonged productivity drag to rebound. If that occurs, the earnings outlook of certain Japanese companies, especially those operating within non-manufacturing sectors, would also improve.
This, in turn, bodes well for the country's equity market, which is one of the world's largest stock market in terms of value. But despite its size, we believe the Japanese equity market continues to be under-researched and underrepresented as a key component of the global investment landscape.
Average research coverage by market capitalisation
There are plenty of companies that have very little, if any, broker research coverage. Most small-cap stocks are covered by an average of two sell-side analysts – some could have up to five whereas others will not have any coverage at all. Mid-cap companies also suffer from limited research coverage.
Hidden value can therefore potentially be uncovered through in-depth fundamental research. In short, Japan's stock market remains inefficient and it is possible to capture mispricing opportunities amidst the long-term fundamental shift that is currently taking place.
Deel dit bericht