Monex Europe: BoE and SNB to hike 75bp in Q4 2022
Simon Harvey, Head of FX Analysis at Monex Europe, has published a reactive commentary on the rate decisions by the Bank of England (1) and the Swiss National Bank (2).
1) Bank of England delivers hawkish 50bp increase
The Bank of England today voted 5-4 in favour of raising Bank Rate by 50bps to 2.25%. Amongst the dissenters, only newly appointed external member Swati Dhingra voted in favour of a smaller 25bp hike, with Ramsden, Haskel and Mann all voting in favour of 75bps. Although the decision to hike rates by half a percent undershot market pricing, which assigned a roughly 60% probability of 75bps, the hawkish connotations scattered amongst the rate statement and meeting minutes have kept the Bank's implied rate path further out largely intact.
Following the announcement, markets trimmed their expectations of the Bank's hiking path for the remainder of this year, with the year-end implied rate now trading 14bps lower at 3.6% (75bps in November and a 60% probability of 75bps in December), but maintained their view of Bank Rate peaking close to 5% in the middle months of next year.
While much depends on the extent of the fiscal easing announced in tomorrow's mini-budget, we think the BoE's bias is to increase the pace of its hiking cycle in November with a 75bp hike in order to mitigate against rising core services inflation and increased persistence.
As mentioned, the Bank's hawkish bias was littered throughout today's announcements. Firstly, not only did more MPC members dissent in favour of a 75bp hike relative to the majority of sell-side estimates, but the Committee also followed through on their previous proposal to begin actively selling gilts as early as October.
In and of itself, this decision suggests the Bank is firmly committed to keeping monetary conditions tight, irrespective of analyst concerns over the increase in gilt issuance that could be signalled tomorrow by the Chancellor. Compounding these hawkish signals was commentary within the rate statement regarding the Bank's preliminary assessment of the impact the latest Government support measures would have on inflation.
While the Bank is awaiting tomorrow's mini-budget to formally compute the impact in November's Monetary Policy Report, and thus adjust policy accordingly, it has already outlined its view that these measures pose substantial upside risks to the medium-term inflation projections, as they would fuel household spending and raise core CPI. Finally, the BoE maintained its commitment to "respond forcefully" to signs of stronger demand and more persistent inflation pressures.
In response to today's BoE decision, the pound tracked near-term money market pricing lower as GBPUSD erased its pre-BoE rally. The move was minor, however, and confirms our view heading into this week that Friday's mini-budget would be more decisive for GBP crosses than the BoE meeting.
Should Chancellor Kwarteng loosen the fiscal purse strings to such an extent that it ushers in renewed concerns over fiscal sustainability and resurrects worries over the UK's current account deficit, further GBP downside is likely to be exhibited irrespective of the Bank of England's implied rate path.
However, a more fiscally sustainable stimulus package, with offsetting government spending measures, would likely provide GBP with some upside as the measures would not only reinforce foreign investor sentiment over UK assets, but also provide the BoE a clearer path to underpin their returns with higher interest rates.
Sterling follows Dec 2022 rates lower following the BoE's decision to hike by 50bps, but the moves are minor compared to what we may see tomorrow around the mini-budget announcement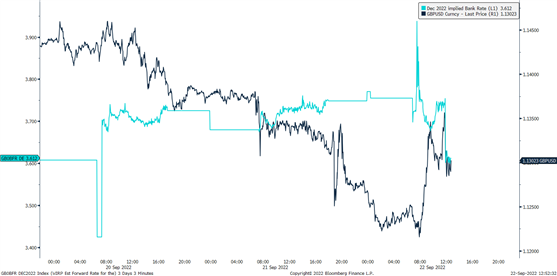 2) SNB hikes 75bps, Swissy slides as 100bp risk is priced out
The Swiss National Bank hiked its policy rate by 75bps to 0.5% today, a move that was largely expected by the sell-side community. Given the SNB's lack of inter-meeting communications, the latest rise in inflation, and its lower frequency in announcing policy decisions, there was a credible risk that they would hike by 100bps today to cover off an increasingly hawkish ECB and rising inflation pressures in Europe.
In addition to this, markets were also awaiting fresh guidance from the central bank on their tolerance over the current level of the CHF real exchange rate (REER), given it has appreciated by almost 7% in broad terms since June's meeting. By meeting consensus with the rate hike and maintaining its commitment to two-sided intervention in FX markets instead of explicitly relaying a preference for a stronger franc, today's decision undershot market expectations. In response, the franc slid over a percent against the euro, reversing yesterday's post-Fed rally.
While the initial move in the Swissy is sizeable, we think today's policy decision is merely a blip in the road for the stronger CHF narrative as opposed to a turning point in the franc's trend.
Firstly, the SNB's conditional inflation forecasts suggest that further interest rate hikes can be expected in the near-term. This possibility was also highlighted within the rate statement, where policymakers stated that further rate rises "cannot be ruled out".
Secondly, commentary from Governor Jordan in the press conference was notably hawkish. He stated that the SNB are paying particular attention to the level of the franc given its important role in determining inflation, which is currently being driven by imported energy and food prices, while also outlining the possibility of the SNB conducting unscheduled rate decisions should further rate rises be needed. Jordan's comments in the press conference helped to cap the rally in EURCHF, bringing the pair back towards 0.96.
Looking ahead, we expect the SNB to embark on another 75bps hike in December and 25bps in March, bringing the policy rate to 1.5% by Q1 2023. There remains a credible risk that the SNB may embark on more emergency measures over the coming months should the rally in the Swiss franc fail to offset rising inflation pressures in the euro area. These measures could include sales of FX reserves in order to synthetically strengthen the franc and unscheduled rate hikes, although we don't expect the latter to occur unless FX intervention measures prove fruitless.
EURCHF reverses its post-Fed drop as markets price out the risk of a 100bp hike
Share this post!