Magazine
Magazine Financial Investigator
Financial Investigator is the independent and leading institutional magazine on asset management and securities services for the Dutch institutional market. The magazine is published seven times a year and is sent to more than 7,800 readers via controlled circulation.
Readers of Financial Investigator are professionals who work for pension funds (pension fund managers, members of investment advisory committees), administrative organisations, fiduciary managers, insurers, independent asset managers, family offices, investment consultants, supervisory authorities or other institutions involved in the Dutch institutional market.

Each edition focuses on one or more current themes.

In 2019, we will focus on the following themes:
External Manager Selection and Fiduciary Management
Fiduciary Management
Passive investing in ESG
Alternative Fixed Income
Tobacco free portfolios
Emerging Markets
From Active to Passive to Factor Investing
Fixed Income
LDI
Sustainable Investing in Real Assets
Sustainable Investing in Real Estate
Climate Change; Energy Transition
Designing Investment policy for ESG and Impact Investing
Balance Sheet Management
Asset Management for Insurance Companies
Climate Change, Energy Transition
Disruption
Long Term Investing
Factor Investing
EDITORIAL BOARD
Jolanda de Groot, Harry Geels.

EDITOR
Baart Koster.

NEWSROOM
Hans Amesz, René Bogaarts, Baart Koster, Joost van Mierlo, Jan Jaap Omvlee, Lies van Rijssen and Arnoud Veilbrief.

ADVISORY BOARD
Han Dieperink, Justus van Halewijn, Bob Homan, Dries Nagtegaal, Jeroen van der Put, Karin
Roeloffs and Hans de Ruiter.
EDITORIAL ADVISORY BOARD
Michiel Cleij, Ronald Florisson and Derya Gunaydin.
PUBLISHER
Financial Investigator is issued by Financial Investigator Publishers B.V.

MAGAZINE
If you would like to receive the magazine, please register here.

ADVERTISING & SPONSORING
For information about advertising opportunities and other forms of sponsoring, please contact us at info@financialinvestigator.nl.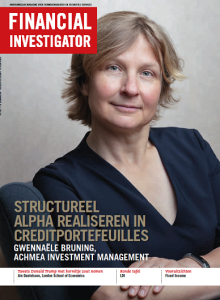 Financial Investigator
Year 11 - Issue 5
Financial Investigator is sent free of charge to readers of the target group of Financial Investigator.
SUBSCRIBE