Phenix Capital: Impact funds targeting Circular Economy are exponentially increasing in number since 2019
Phenix Capital: Impact funds targeting Circular Economy are exponentially increasing in number since 2019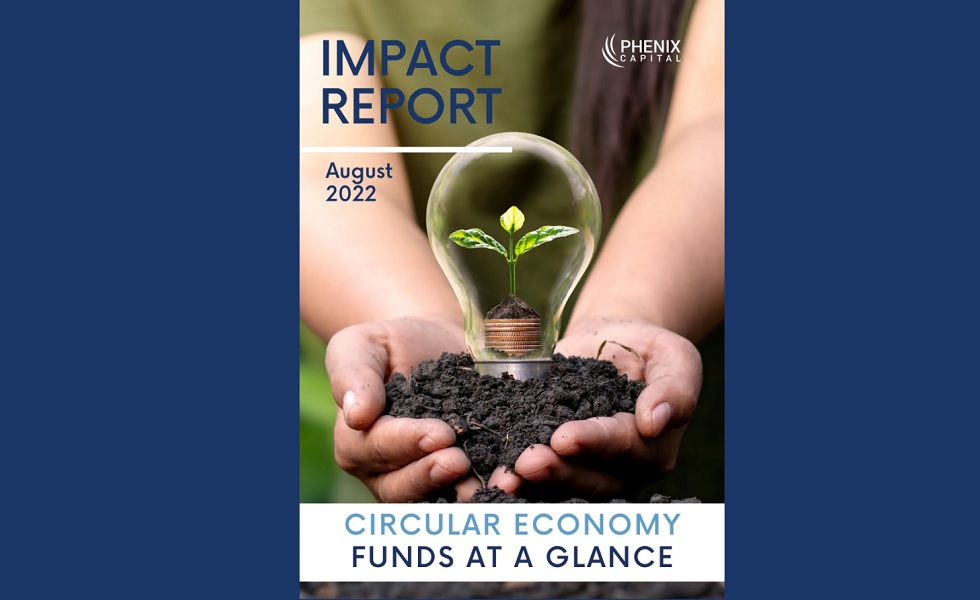 Phenix Capital Group has released today its Impact Report on Circular Economies, revealing the number of impact funds targeting the Circular Economy theme has increased exponentially since 2019. In 2018, 8 impact funds were launched with a focus on this theme, while in 2021 this number increased to 41 funds.
To compute data on funds targeting investments towards a more circular economy, Phenix Capital Group has made use of its Impact Database and developed new data sets of outcome-based investable themes mapped against the Sustainable Development Goals (SDGs).
Circular economy focuses on models and solutions that aim to be regenerative by promoting the reutilization of products, the reduction of waste to a minimum and the sustainable use of natural resources. This impact theme is part of SDG 12: Responsible Consumption and Production.
Key report takeaways
Since 2019, the number of impact funds that target the Circular Economy theme has increased exponentially. In 2018, 8 impact funds were launched with a focus on this theme, while in 2021 this number increased to 41 funds.
Impact Funds targeting Circular Economy, only represent 9 % of the impact investing universe tracked by the Impact Database.
The majority of capital allocated towards is targeting Developed and Global Markets. More specifically, Western Europe (EUR 9.9 bn) and North America (EUR 8.7 bn).
Currently, Private equity is the asset class that is fundraising the most towards Circular Economy. There are open and evergreen funds available in all regions, with Western Europe and North America having the largest total fundraising targets.
Interviews
Besides top-down data from the Phenix Impact Database, the report also features industry players' interviews:
Sasha Brown, Partner at the Ecosystem Integrity Fund (EIF).
The Ecosystem Integrity Fund ("EIF") is an early growth stage investor in companies contributing to environmental sustainability. "The movement toward environmental sustainability is making incremental improvements to the largest industries in the world", highlights Sasha.
She emphasizes that "over the next several decades, the economy will be transformed by this movement. The integration of economic and environmental sustainability is not just a trend – it is a long-term, durable shift driven by economics". Sasha calls it "the next phase of the Industrial Revolution".
Daan van Kassel, Fund Manager at Polestar Capital.
Polestar Capital is an impact investor that provides solution-oriented financing to sustainable initiatives to create meaningful impact. They are currently investing around € 1 billion in capital through 3 climate focused investment funds. Their mission is to bridge funding gaps for climate change mitigation and circular economy solutions.
Please click on the link below to read the full report:
Share this post!