Morningstar: Asset Managers and Net Zero Investing - The Road Ahead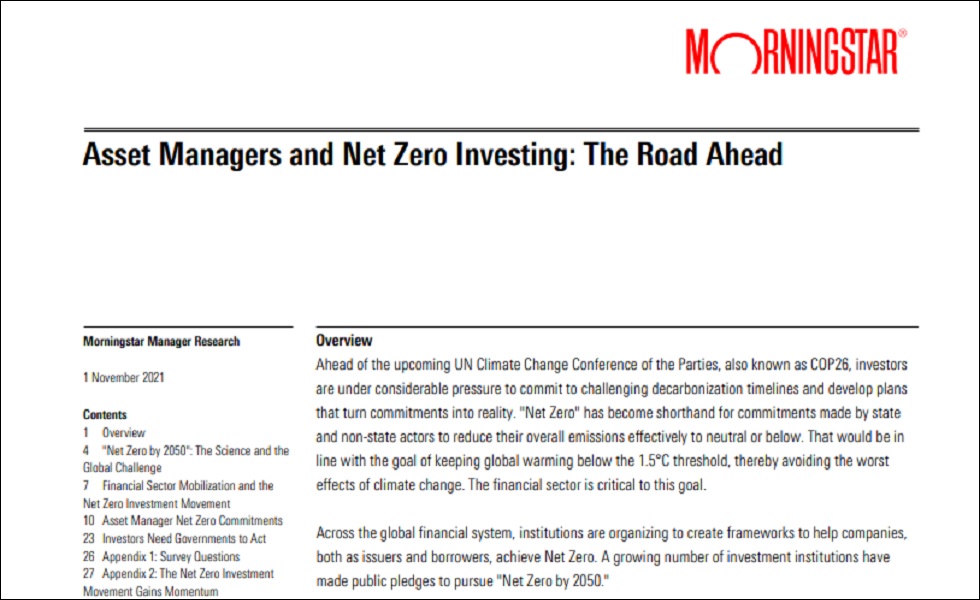 Ahead of the upcoming UN Climate Change Conference of the Parties, also known as COP26, investors are under considerable pressure to commit to challenging decarbonization timelines and develop plans that turn commitments into reality. "Net Zero" has become shorthand for commitments made by state and non-state actors to reduce their overall emissions effectively to neutral or below. That would be in line with the goal of keeping global warming below the 1.5°C threshold, thereby avoiding the worst effects of climate change. The financial sector is critical to this goal.
Across the global financial system, institutions are organizing to create frameworks to help companies, both as issuers and borrowers, achieve Net Zero. A growing number of investment institutions have made public pledges to pursue "Net Zero by 2050."
There are plenty of challenges. How this is expressed as an investment strategy for asset managers, and how an asset manager's net zero investment strategy translates into real-world, measurable emission reductions, is not yet clear. Decarbonizing portfolios does not necessarily lead to decarbonization of the real economy. The data to support the pledges is of mixed quality. The actions of the private sector must be coordinated and be supported by government action. These are some of the issues faced by asset managers pledging to make their investments align with net zero emissions by 2050 or sooner.
This paper examines what committing to "net zero" means for asset managers, and what role they can play in decarbonizing the global economy. In addition, it assesses the challenges that asset managers who have made such promises face in fulfilling their commitments. We structure our analysis around the formal commitments that asset managers make as signatories to the Net Zero Asset Managers, or NZAM Initiative, and draw key insights from detailed responses to a questionnaire survey of asset managers that have made public net zero pledges.
In Section 1 we connect the scientific basis for the decarbonization imperative to the investment challenge. In Section 2 we trace financial sector and investment industry climate action over the past two decades to understand the institutional framework supporting the net zero investment movement.
In Section 3 we examine the role of asset managers in pursuing economic decarbonization. In this section we draw on insights gathered through an open-ended survey of 12 asset managers. We also examine recent guidance, tools, and platforms aimed at supporting investors—and asset managers in particular—to have a real-economy impact. In Section 4, the final section, we consider how government action can support private-sector net zero action and what investors hope for from COP26.
Please click on the link below to read the full report:
Share this post!