bfinance - Quarterly report: Manager Intelligence and Market Trends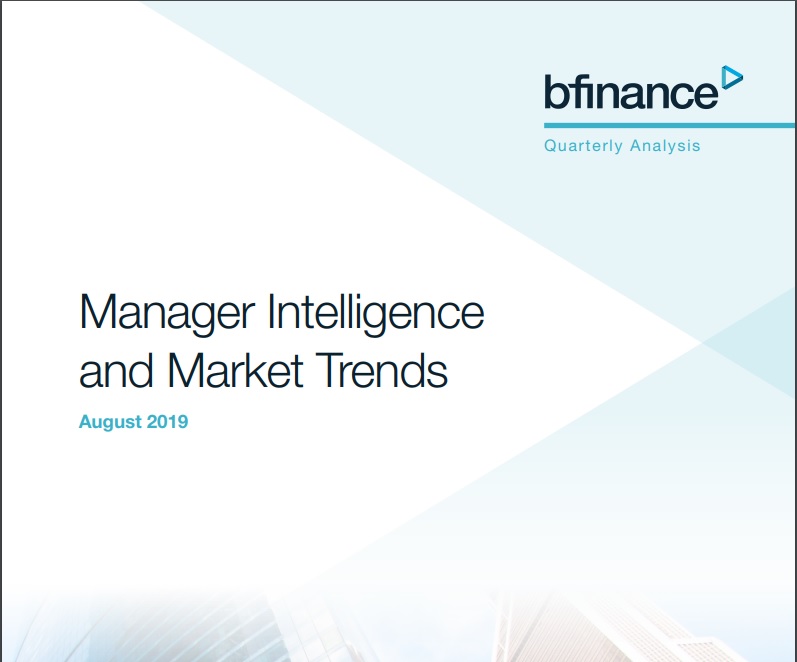 In het laatste Quarterly Report van investment consultant bfinance worden de volgende trends gesignaleerd:
1) New manager searches illustrate a strong focus on improving portfolio resilience. Within equities this manifests as appetite for low volatility and quality; in fixed income we see increased interest in investment grade bonds versus high yield and loans.
2) The bfinance Risk Aversion index sits in neutral, with key market indicators showing both caution and optimism. Yet equity "FOMO" (fear of missing out) is evident among Multi Asset funds: average allocations to equities are now higher than they were during the risk-friendly 2013-14 window.
3) Styles (or factors) were strongly predictive of Q2 active manager performance in developed market equities, where value managers (-5% vs. MSCI World) continued to struggle versus their growth-focused peers (+8.5%). The picture was very different in emerging market equities where style had little connection with performance.
4) Demand for Alternative Risk Premia has risen again in 2019, despite the disappointing returns that some ARP managers delivered in calendar 2018.
5) Conversely, we note a decline in appetite for corporate Private Debt although this sector still represents nearly 10% of all new manager searches conducted by bfinance and 25% of those in private markets.
Klik hieronder voor het volledige rapport: