Global Asset Allocation Views - 3Q 2019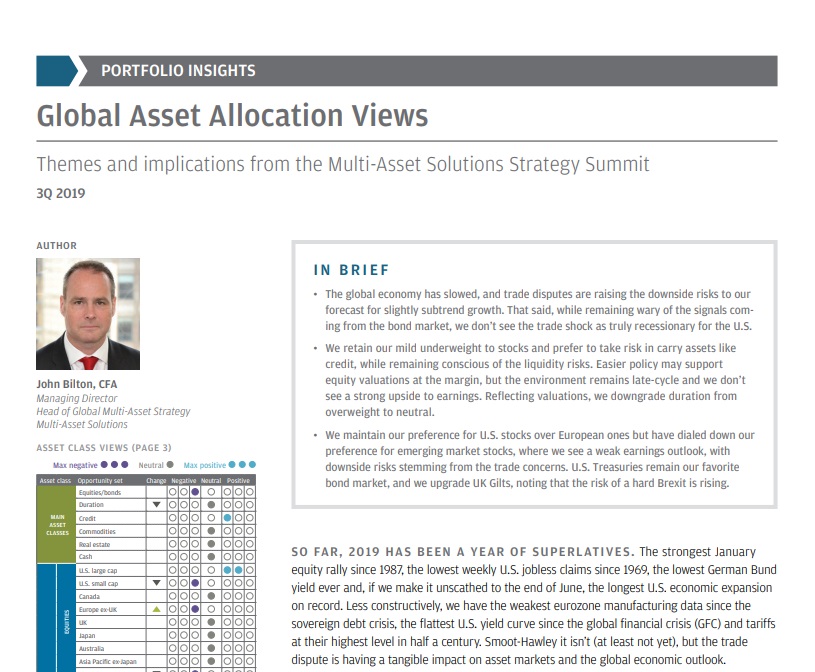 Themes and implications from the Multi-Asset Solutions Strategy Summit
IN BRIEF
The global economy has slowed, and trade disputes are raising the downside risks to our forecast for slightly subtrend growth. That said, while remaining wary of the signals coming from the bond market, we don't see the trade shock as truly recessionary for the U.S.
We retain our mild underweight to stocks and prefer to take risk in carry assets like credit, while remaining conscious of the liquidity risks. Easier policy may support equity valuations at the margin, but the environment remains late-cycle and we don't see a strong upside to earnings. Reflecting valuations, we downgrade duration from overweight to neutral.
We maintain our preference for U.S. stocks over European ones but have dialed down our preference for emerging market stocks, where we see a weak earnings outlook, with downside risks stemming from the trade concerns. U.S. Treasuries remain our favorite bond market, and we upgrade UK Gilts, noting that the risk of a hard Brexit is rising.
Click below for the full report.