Dynamic Credit Dutch Mortgage and Housing Market Report 2019-Q1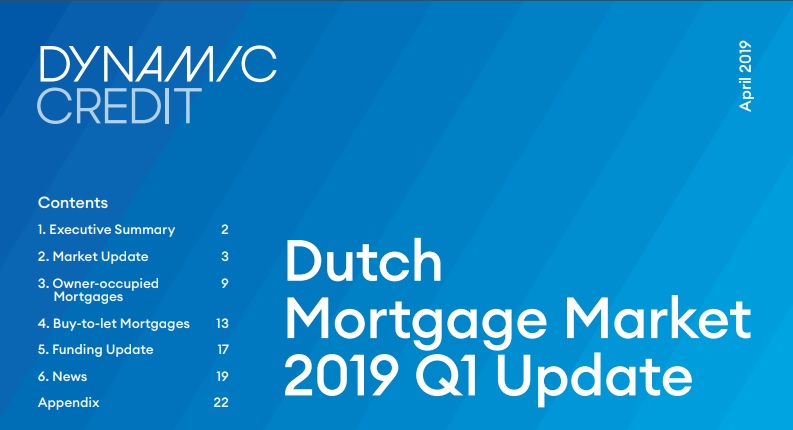 The Dutch private rental market needs a boost
Spreads on mortgage loans have increased significantly
Revised regulation will increase attractiveness of NHG loans for insurance companies
The strict income cap of around EUR 38,000 per year disqualifies a large share of the population from social housing. However, incomes slightly above this cap are most often also too low for a mortgage loan large enough to buy a house that meets the size and location requirements. Moreover, there are also people who would rather rent than buy or unwilling to wait until a social housing property becomes available. These effects drive demand for free sector rent housing. Despite the rising demand in this segment, only 13.9% of the housing market is available for free sector rent: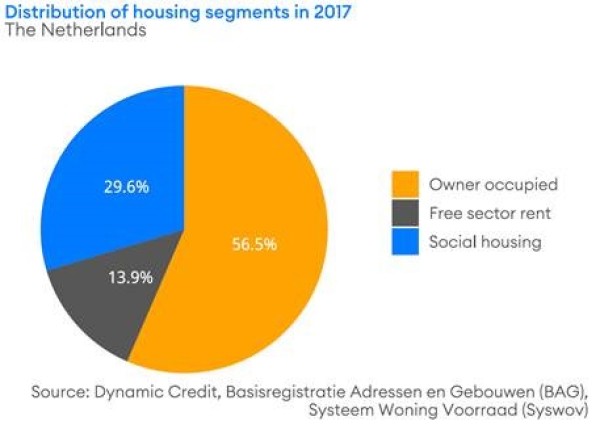 Jasper Koops, Portfolio Manager at Dynamic Credit states: "Although there are a few big players that own a large part of the rental housing stock, research shows that 56% of all landlords own only one or two houses that are rented out. This is a large part of the market for which the sources of financing are limited. We believe that, by providing financing solutions for these investors, we can help grow the private rental market to a sustainable level and help reduce the cost gap between renting and buying that has increased over the past years.""
Mortgage spreads became much more attractive during the first quarter of 2019 as mortgage rates largely remained flat but benefited from large decreases is swap rates. The long fixed rate period mortgages benefitted the most with an average spread increase of 29 bps and 34 bps for the 20- and 30-year fixed rate periods respectively. On average across all major fixed rate periods and risk classes the average spread increase was 24 bps over the quarter.
The European Commission proposed a revision of regulation that would allow insurers to take guarantees (such as NHG) into account when calculating capital requirements under Solvency II. If the regulation is approved by the European Parliament and Council, and if NHG loans meet the requirements that are stated, this will substantially lower the required amount of capital that insurers need to hold for NHG loans under the standardized approach. In case of approval, the new regulation is expected to be adopted by 1 January 2020.