Stan Beckers joins Avida International's Advisory Board
Stan Beckers joins Avida International's Advisory Board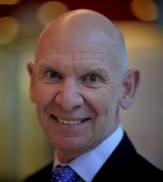 Avida International is pleased to announce that Stan Beckers has joined Avida International's Advisory Board.
Paul Boerboom, Founding Partner of Avida International said: "We are delighted to have Stan on our Advisory Board. He brings a wealth of experience and knowledge of the investment management industry, which will help us to further improve our services for clients in an age where the industry is subject to rapid changes (eg. the need for new value propositions, fee pressures, digitalisation and sustainable investing)."
In addition to his Advisory role at Avida, Stan is an Executive Fellow and Non-Executive Chair of the AQR Asset Management Institute at London Business School, and Non-Executive Director and Chair of the Risk Committee at Rothesay Life in London.
Stan has over 30 years' professional and leadership experience in global finance and asset management organisations. Until April 2017, he was a member of the Management Board of NN Group and CEO of NN Investment Partners and, prior to this, was Managing Director and Co-Head of BlackRock Solutions EMEA, Head of the Scientific Active Equity Group Europe at Barclays Global Investors, CIO at Kedge Capital and CIO at West LB Asset Management. He was also one of the early partners of BARRA (now MSCI BARRA) where he started, and ran, the non-US operations for 20 years.
Stan has served as a member of the investment committees of several pension funds and on the supervisory boards of KAS BANK and Robeco in the Netherlands. He has also taught at various universities such as KU Leuven, VU Amsterdam and the London School of Economics, publishing over 50 papers in various academic journals.
Stan Beckers commented: "It is a pleasure and an honor to be part of the Advisory Board of Avida International at a time when the asset management industry finds itself at the cross-roads of increased transparency, ever more demanding regulatory reporting, cost pressures, technological change and business consolidation. The challenges are manifold but also open up opportunities. I am convinced that Avida can guide and assist those who want to take advantage of these opportunities."
Deel dit bericht