WisdomTree: Gold price forecast and outlook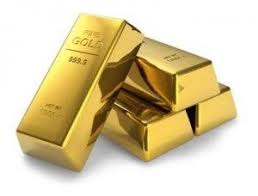 By Nitesh Shah, Director Research
"We ended 2019 with one crisis averted: US-China tariffs that were supposed to be ramped up on December 15th were cancelled as the two nations reached a "phase one" trade deal. But as 2019 came to a close and 2020 started, a crisis which had been brewing for some time in the background came to the foreground: tensions between US and Iran flared to levels not seen since 1979. Gold remained resilient when the trade fears subsided but accelerated when Iranian crisis started. Gold has risen to US$1550/oz on 13th Jan 2020, up from US$1461 on 9th Dec 2019.
"We believe that the tensions in the Middle East and trade frictions will continue to support gold prices during 2020. As the US-China phase one deal based on a narrow set of issues does not really address the full scope of grievances that the US has with China, it's not surprising that the gold market remains cautious about further trade progress being made. Indeed, a deal that is good enough for now could stall progress on further phases until after the Presidential election in the US (November 2020). Worse still, a vindicated Trump Administration, declaring a premature victory over China (after declaring trade victories with Mexico, Canada and a number of Asian countries), could sharpen its focus on its trade deficit with Europe in 2020, adding to the risks of economic deceleration in 2020. We believe that the price of gold in 2020 will continue to be influenced by the progress (or lack thereof) in trade discussions.
"Our internal model indicates that gold prices are poised to move higher in 2020. Gold prices could end the year around US$1640/oz. We form that base case view using consensus forecasts for Treasury yields, the Dollar Basket, inflation and conservative forecasts for speculative positioning in gold futures. However, if we end up in a world where tensions in the Middle East persist or trade protectionism spirals out of control and monetary authorities have to resort to utilising radically new tools, we could see gold rising to over US$2000/oz. Conversely in a world where trade frictions are resolved amicably, gold could end 2020 around US$1470/oz.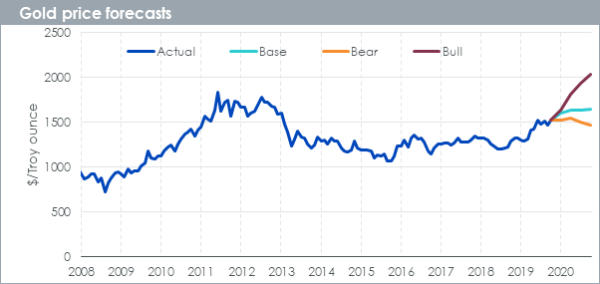 Source: Bloomberg, WisdomTree. Actual data as of 31nd December 2019. Forecasts are not an indicator of future performance and any investments are subject to risks and uncertainties.
"One of the key differences between our base, bear and bull cases is sentiment towards gold (measured by positioning in gold futures). Sentiment towards gold is strong because markets appear to be anxious. Even though cyclical assets like equities are doing well, investors are building in hedges via gold. Military confrontation is the reason for the most recent spike in positioning, but even if this subsides, trade anxiety is unlikely to evaporate easily this year. The sheer unpredictability of policy makers choices and the dire implications of political gambles going wrong are weighing on investors sentiment. It's not that investors are expecting things to go wrong as a base case, but the risk is high and consequences are bleak, so it makes sense to build in hedges. Unfortunately, the answer to the question how long speculative positioning will remain elevated is therefore linked to how long trade uncertainty and military conflict concerns (and other geopolitical risks) will remain. For that we don't have a clear answer, but our scenarios hopefully provide colour on what could happen to gold if positioning were to fall or remain elevated."
Assumptions

Source: Bloomberg, WisdomTree. Forecasts are not an indicator of future performance and any investments are subject to risks and uncertainties. *Based on consensus forecasts taken from Bloomberg in December 2019.