2018 - 4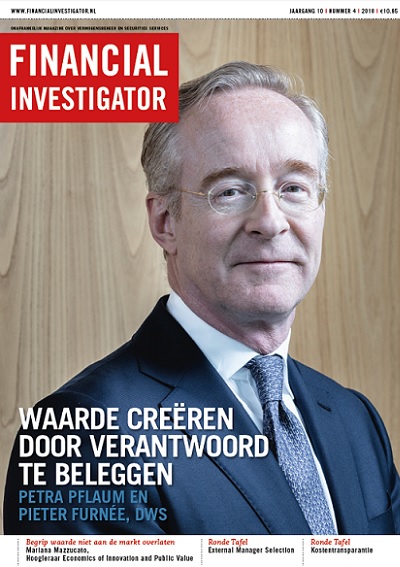 In deze uitgave besteden we veel aandacht aan een viertal onderwerpen. In de eerste plaats gaan we uitgebreid in op de selectie van externe managers. Tijdens een ronde tafel over dit onderwerp deelden zeven specialisten hun visie over onderwerpen als 'hoe ziet het selectieproces eruit?', 'welke analyses worden gedaan voordat een externe vermogensbeheerder wordt geselecteerd?' en 'wanneer wordt de samenwerking met een externe manager beëindigd?'.
Een tweede onderwerp waarover tijdens een ronde tafel flink gediscussieerd werd, was kostentransparantie. De brede maatschappelijke roep om transparantie klinkt al jaren en ook bij pensioenen neemt de behoefte daaraan toe. Volop reden dus om alles over kosten open op tafel te leggen en dat deden de gespreksdeelnemers dan ook. 'Als je een externe partij selecteert, moet een kostengesprek niet alleen gedreven worden door de vraag: hoe krijg ik die omlaag?'.
Aan Verantwoord Beleggen, Duurzaam Beleggen, ESG en Impact Investing wordt in deze editie ook veel aandacht besteed. Op de cover staat Pieter Furnée, Global Head of Responsible Investing Coverage bij DWS. Furnée ging samen met Petra Pflaum, CIO Responsible Investments tijdens een interview in op ambities en het belang van een trackrecord op het gebied van Verantwoord Beleggen.
Het onderwerp duurzaamheid komt tijdens diverse interviews, artikelen en columns terug. En van ESG is het een kleine stap naar Factor Investing. Zowel tijdens de ronde tafel als tijdens het seminar over dit onderwerp kwam de vraag naar voren of ESG nu een factor is of niet. Wat het antwoord op deze vraag is, kunt u in het laatste deel van deze uitgave lezen.
Share this post!