2016 - 4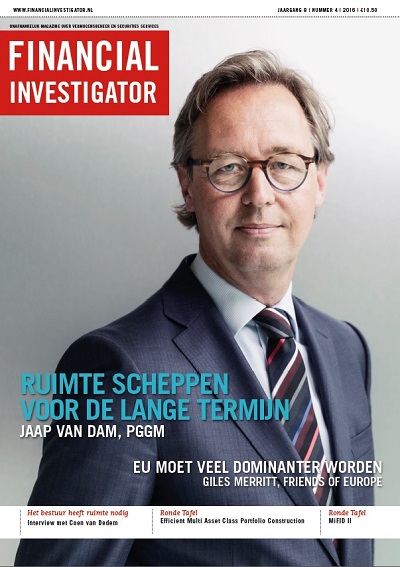 In deze editie treft u veel lezenswaardige interviews en artikelen aan over Multi Asset en Factor Investing, dit mede naar aanleiding van het seminar en de ronde tafel die Financial Investigator over deze onderwerpen heeft georganiseerd.
In het coververhaal vertelt Jaap van Dam van PGGM over een van de uitdagingen waar hij voor staat: hoe kun je pensioenfondsbestuurders overtuigen om de focus meer te leggen op de lange termijn? 'Het is verschrikkelijk moeilijk om je echt aan de korte termijn te ontworstelen. Het paradoxale is dat ondernemingen waarin pensioenfondsen beleggen hetzelfde constateren.'
Giles Merritt, oprichter van de invloedrijke denktank Friends of Europe, is een van de Britten die wenst dat de EU een veel dominantere rol krijgt. 'Doormodderen is het grootste gevaar. Het is de hoogste tijd dat de EU zijn ambities herdefinieert,' zegt hij tijdens een voordracht aan de London School of Economics.
Daarnaast wordt in deze editie extra aandacht besteed aan MiFID II en aan vele andere onderwerpen.
Share this post!